There are 3 days in every year that the Blogfather will always dread the most: his wedding anniversary, his wife's birthday, Mother's Day, Christmas and Chinese New Year. We have our reasons for the fear, too. The husbands will have a tendency to forget dates or worse, face scheduling conflicts. And if you do happen to remember and ensure the special day is free from other commitments, there's the issue of the present, and even I need help in that area most of the time.
My son and I were invited to take part in a Mother's Day clay-making session hosted by D?lifrance, which I took as a much-appreciated respite from my annual predicament during this period. The event was to commemorate the launch of their cake creations, baked specially for moms. The twist here is, only dads and their kids were invited, and for good reason: the products of our claymaking session was to be presented as Mother's Day gifts for our mothers.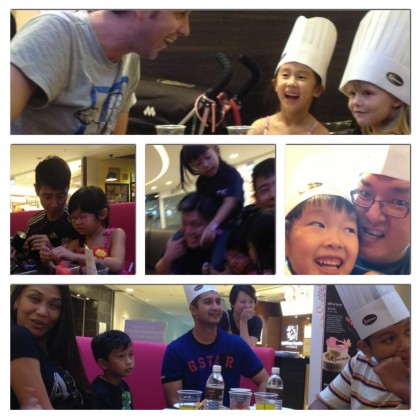 As it turned out, we weren't the only ones there. We met up with Isaiah Kuan and his 2 daughters from J Babies' Dad, David Sim and little Dana from Princess Dana Diaries, not to mention (but I will anyway) local author Neil Humphreys and his kid daughter, and Lions XII goalkeeper Aide Iskandar, who pretty much brought his entire family, much to the chagrin of the organisers (who freaked out a little and went, "But we said no mothers! … oh, okaaay.")
Our mission, which we chose to accept? Make mini-clay versions of the D?lifrance Mother's Day cakes with our kids. There was an craft-making instructor on hand to guide us along the way, but this is no easy feat for a big-fingered man to accomplish.
Still, I signed up for this, so I tried. I can't say I did too badly, though. And neither did Xander.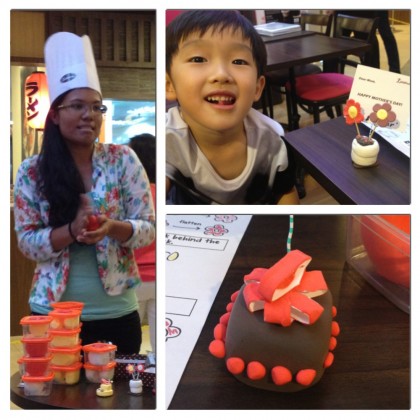 You'll know D?lifrance for their killer gourmet sandwiches. I've been a big fan of their chicken and egg mayo on ciabatta bread since I was but a young working adult, and my own mother loves their metre-long french bread (she calls them jiam tao loti). But the cakes from them are a first for me.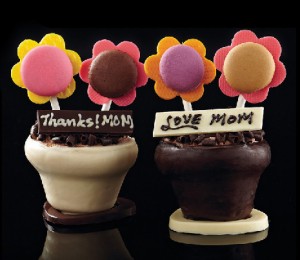 The Blossom of Love (which Xander made a clay copy of) is a cupcake-sized, chocolate-coated flower pot with macarons and chocolate petal blooms. For $12.80 each, you have a choice of vanilla cake with lemon filling or chocolate cake on chocolate Philadelphia cream cheese.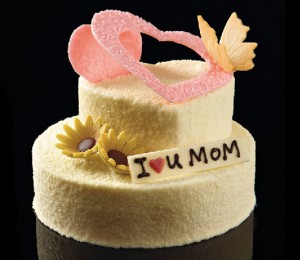 Then there's the Garden of Love, a 700-gram, two-tier vanilla mango yoghurt mousse cake with a white chocolate coating, styled with hearts, flowers, and a pink butterfly symbolising "a mother's gentle and beautiful nature" (in other words, the mother of your children, and let's don't forget your own mum, too). This one's priced at $42.80.
The nice people at D?lifrance let us bring home the Gift of Love, the uber-chocolatey cake with Belgian chocolate mousse and hazelnut pralines, coated in chocolate ganache, surrounded with pink macarons and topped with a big pink chocolate ribbon. It weighs in at about 700 grams as well, and also goes for $42.80.
Thanks to Delifrance, Mother's Day this year is now covered; ?to go…
***
D?lifrance's Mother's Day cakes are available at all D?lifrance bakery cafe's islandwide (except bake-off at Siglap Centre, Coronation Plaza and Chancery Court). Note that the Gift of Love and Garden of Love cakes require 2 days' advance order, and you have till 9 May 2013 to make your orders. Prices and items may be subject to changes without prior notice, and pictures are for reference only. For enquiries,m ou can call the D?lifrance guest service hotline at 6874 9622 (Mon-Fri, 9am-6pm).
There's also an Instagram contest you can take part in! Just submit a photo featuring your mom on Instagram, with a caption telling us how endearing your mom is, and hashtag your caption with #delifrancesg; you stand a chance to win one of 3 $100 D?lifrance Dining Vouchers! The contest runs from 1-12 May 2013, and winners will be notified via Instagram on 15 May 2013.