Update: The winners have been picked! Check the end of this post to see if you've won, and thanks for your endearing comments!
"Daddy, where are we going?" my rather bored son asked as we drove out for the evening.
"We've been invited to dinner by a King," I replied. "We're going to a castle. There'll be knights there."
The boy sat up; I piqued his interest, much to the bemusement of his mother. "Castle? Where?"
"At VivoCity," I said.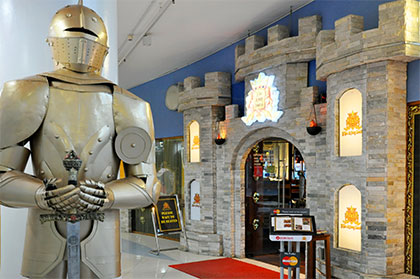 In fact, we were invited by the management of The King Louis for a royal evening feast. Prior to this, the only things we knew about the place were that they planted a couple of knights' armour as promotional displays around the shopping centre (I was later told there were 3 knights in total strewn around the area), and that they were located round the back of Daiso, at what was once Hog's Breath Caf?, where I once brought the wife, before the wife was the wife, in one of my early bids to impress her into becoming my wife – with an avocado ribeye steak, I still remember.
I always thought The King Louis to be a tavern or a pub with a really good view of Sentosa; I was only half-right. Turns out it is a full-service restaurant bar and grill with a really good view of Sentosa. Our hostess for the evening also pointed out that Sentosa has a really good view of the restaurant?(they also have another dessert cafe bistro called Queens across the bridge), especially at night when the restaurant signage is lit.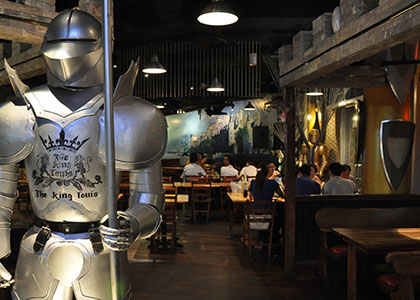 It's just as dramatic within. The interior is set up like a dimly-lit Tudor-style dining hall, complete with oak tables and benches, a mural of a majestic castle by a lake, a number of knights hanging out with swords and all, and a taxidermy tiger which my son took a special interest to throughout the night. There's also a ceiling mounted television screening all manner of medieval epics from Lord of the Rings to The Chronicles of Narnia, in case, you know, the dead tiger isn't enough of a distraction.
If you're vegetarian, you need to seriously rethink your lifestyle if you want to sit with your meat-loving friends here, because The King Louis is a carnivorous lair, and not an ounce ashamed of it. And they call this a family restaurant for one very big reason; you should never attempt to go into the castle alone. Always with a larger group of friends, your work colleagues (including your tea auntie, cleaner uncle, and the despatch riders) or better still, all 3 generations of your extended family.
And what's a king's castle without a royal feast? The King Louis serves up specialty starter platters (the Platter C that we ordered had BBQ wings, calamari, prawn rolls, and they also have this strange bacon-wrapped banana chunks which completely threw me off) and "banquets", gigantic silver trays of food laid out to cover way more than the required spectrum of the food pyramid (a pile of roast black pepper beef, baby back ribs, sausages, and/or an array of various seafood, depending on what you order, laid on a bed of?roast potatoes and butter-drenched vegetables). And if you'd like a swig of beer to go with all that food, The King's got Hoegaarden on tap, as well as a selection of 17 other bottled offerings, that kind of read like a "Greatest Hits" of beer brands (Heineken, Fosters, Corona, Little Creatures and ?Somersby cider, just to name a few).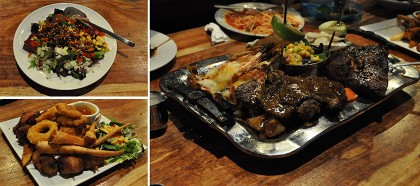 Its selection of banquets (from the respectable Knight's menu, to the by-no-means-ladylike Queen platters, to the very opulent, seafood-based King's Banquet) are a sight to behold, and the restaurant is happy to provide doggie bags (or aluminium swans, depending on who's working in the kitchen at the time) for leftovers (and I promise you, there will be leftovers). The seafood in our Queen Victoria Banquet was done impeccably, and the roast potatoes and vegetable complements stood on their own in taste, though the beef was too well done (we asked for medium rare) and the baby back ribs a tad tough. The wife and I did note one other thing: we've never seen our son voluntarily consume green apples before, but on this night, he ate two whole cinnamon-laced slices off the skewer, so our hats off and a very appreciative curtsy to the royal chef.
But a word of warning to the daring knights and famished damsels; The King Louis' royal banquets might take a king's ransom to enjoy, depending on the income bracket you belong to, and the income bracket of the people you're sharing the bill, uh, banquet, with. The Banquets can range anywhere from $59.90 for the meaty Knight Gawain set to the $320 King's Banquet for 4-5 persons (and you need to call to pre-order). The Queen Victoria's Banquet for 2-3 persons that we had will set you back the princely sum of $108.50 (not too bad if you consider it's about $36 a head). The single-serving??? la carte items are easier on the wallet, though,?and the generous starter platters start from $19.90 (of course, you could always order ?? la carte for individual starters as well).
That being said, The Blogfather has got you covered.
$50 Dining Voucher* Giveaway
The King Louis has kindly supplied us with 5 dining vouchers worth $50 each for 5 very hungry readers! His Royal Majesty does have one request (actually, two) before you can qualify for the giveaway: give him a?like on Facebook (https://www.facebook.com/thekinglouis), then make your way back here and drop in a comment on who you'll be bringing to The King Louis for your royal feast. This giveaway closes on Thursday, 4 July 2013, 2359hrs, after which The Blogfather will select and announce the 5 winners right here on this post the next day (Friday, 5 July 2013). ?Winners will be contacted over Facebook for your mailing address to send your dining voucher (or if we're meeting up anytime soon, I'll probably just pass it to you and save the postage).
And if you do manage to win a voucher and visit the King's not-very-humble establishment, share the feast on Instagram (remember to tag @thekinglouissg) to complete your visit!
*Terms and conditions apply.
Congratulations to:
Chuyan Kwek
Hazel Cruz Rivera
Isaiah Kuan
Edwin Teo
Amie Chen
Winners, please drop me a private message via The Blogfather's Facebook page with your mailing address as soon as you see this, and I'll have your vouchers sent to you. Hurry, the vouchers expire on 31 August 2013!
The King Louis Grill & Bar is located at 1 Harbourfront Walk, VivoCity, #03-07A, S098585 (Beside Daiso), and they're open daily (12pm to 10pm from Sunday to Thursday, and 12pm to 11pm on Fridays, Saturdays & Eve of Public Holidays.
For reservations, call 6276 0862, or visit their website at?http://www.thekinglouis.com/ to book a table online.