Ever have one of those days when things get so overwhelming you try to grab hold of something just to stay afloat but everything you touch just repels you with annoyance and disgust, and you realise you're just going to have to deal with drowning on your own?
Or one of those days when everything you try to do just goes wrong and when everything you try to say just sounds wrong and everything you think just seems wrong and everything you are is just wrong and people actually agree?
How about one of those days when you know just like every new day that the next day is going to start, but you really don't feel like being around when it does?
How do you pick yourself up from that kind of day?
I'll tell you what I tried. I go with the family to watch an animated movie my wife decided to buy tickets for before my day inexplicably rolled into a shitstorm, but it turns out to be about a corporate baby who was having a terrible day at work, so that didn't do me much good. (The movie isn't bad though, you should catch it with your kids.)
I try to eat, because I haven't had dinner anyway, but movie theatre fast food doesn't exactly look like the caring, kind best friend that's going to tell you, "It's okay, Winston. Just put me in your mouth and chew and everything will be fine, I promise." My chicken bites were too salty and my hot dog looked like my… day.
We go grocery shopping, and I think, hey, retail therapy, right? But then my wife asks me to pick out some grapes and I go to the chilled fruits aisle and see two boxes of those fantastic Californian moondrop grapes and I pick them up and they're wrinkly and leaky at the bottom because they've been left on the shelf about 3 days too long and I almost start to cry.
I tell the wife I need to take a walk after we get home from dinner, just to clear my head. She suggests bringing the kids' bubble blowers. So I do, but it gets depressing because the bubbles would burst. And I stop blowing because I feel like I've been breathing life into them just to see them die.
I decide to just take that walk then, but then it starts to rain, and much as I would have liked the soft rain caressing my face, masking the tears in my eyes as I walk slowly through the night in comforting cold solitude, my son just recovered from a fever and my daughter is still nursing a cough and the last thing my wife needs is another big baby falling sick on her and then a bad 2 weeks at work won't be the only thing I need to worry about.
So I go to my car, open the windows, whip out my phone, open my WordPress app and I write this.
Halfway through, the rain stops. I step out of the car, because it's getting damn hot.
And, hoping I'd at least feel slightly better,  I finish the post with this before I hit "Publish":
Just like every new day,  tomorrow is going to start, and I have no choice but to be around when it does.
… And then the WordPress app fails to upload the post and I have to log in via my web browser and copy-paste everything and re-paragraph the whole thing.
Nope, didn't feel better. Guess it's just one of those days.
(LONG POST AHEAD)
So I was asked to a teatime dialogue session by the Ministry of Education's newly formed Engagement and Research Division. I thought it was because I called their minister a knob, and it didn't help that when I was the first to arrive at the cafe we were supposed to meet, I was led to a table for four. And when the other invited guest (yes, just the one other), I wondered is she called the minister a knob as well.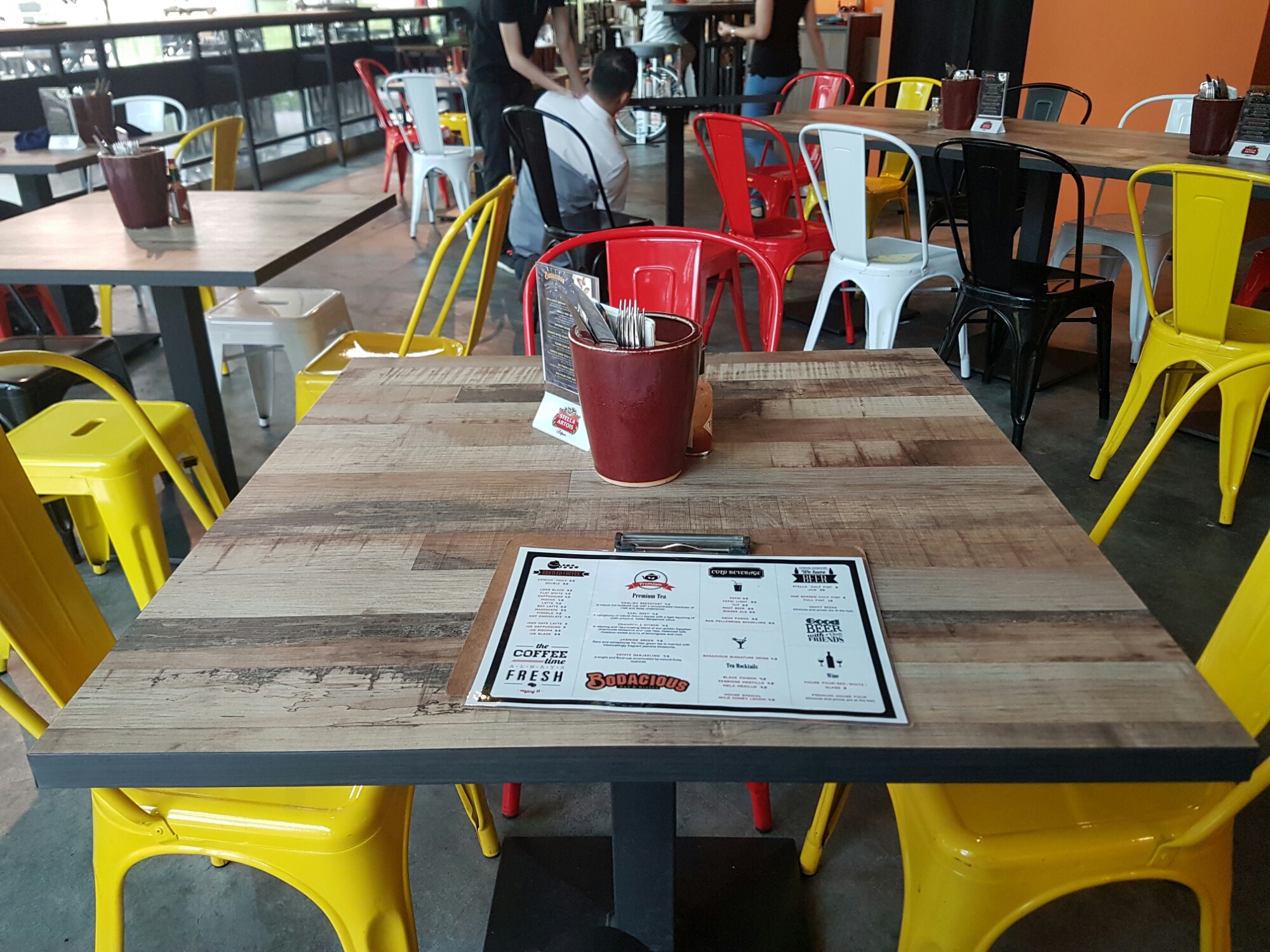 As it turned out, the Divisional Director preferred to keep things "cozy". Shortly after she and another colleague sat down and we made introductions, they opened the discussion for their guests to talk,  without setting an agenda. So, me being me, I just let it rip… for 1½ hours.
(Of course I wasn't the only one talking the whole time, but I don't quite have their permission to put their bits in, so I'm going to just put mine ad verbatim… more or less.)
"Okay, so. I see three issues with the MOE.
You have this huge archaic machine of an education system running on a 50-year-old ideology that draws further and further away from today's reality as every year passes. But you can't make radical shifts and do something like eliminate the PSLE altogether because then you'd void your secondary and tertiary level streaming processes it would cause the rest of your academic levels to come crashing down. Our government is way more measured with how it institutes change, and I can appreciate that. It doesn't help that you have an education minister who's been undermining your efforts with how he's been presenting himself in the public eye. You probably can't do anything about him either.
"But your biggest problem is parents.
"One question has been bugging me ever since my son got inducted into academic life (mind you, his experience with primary school stress took effect as early as preschool level). My own primary school education 30 years ago was never this hard and stressful, and now I'm flipping through my son's Primary 2 Maths textbook and finding he has calculus in his syllabus. I opted out of A-Maths at A-Levels just to avoid doing calculus! How did the bar get raised beyond the appropriateness of our children's age and learning capabilities?
"Your problem is the parents who have confused wanting the best for their child with wanting their child to be the best. Back in the 80s I was sent to tuition classes because I was falling behind. Then parents started treating tuition into a level-up solution, where kids go to keep a step ahead of their school syllabus, and our schools find themselves having to adjust to the raised bar to keep up with the kids. Then comparing PSLE T-scores became a trend, and the pride of the top-scoring parents draws the envy of the nearly top-scoring, and the insecurities of the not top-scoring end up getting everyone joining the T-score race, and that's how our tuition industry exploded.
"We turned into a world-class education system because of neurotic parents. And because they've been speaking the loudest whether through words or actions, you've had to adjust your own policies and syllabus over time to keep up with their demands.
"May I say the idea to switch from T-score to banding isn't working, because it's still a points-based system that parents can make their kids chase after; in other words, your neurotic parents are still at it, and all you did was simplify the race for them.
"I want to suggest you try a more skills-based or values-based banding system, like banding based on creativity, logic and reasoning, hands-on work, leadership, followership, empathy and compassion, determination and hard work, and so on. Something that will tell parents that no matter what level, their child is worth something to society, to their family and friends, to themselves.
"No, it's not the Direct Schools Admission exercise (DSA). You've set the DSA to apply only to a minority of the primary school cohort, and even then the idea, however well-intentioned, is being gamed by the neurotic parents. I have a neighbour that's been putting her Primary 1 kids through table tennis lessons in a bid to qualify for DSA. We hear from her maid that they're horrible at table tennis.
"Look, If you can iron out the kinks in your DSA programme, then what I'm suggesting is expand it and apply it as a standard streaming scheme across the board. Keep the PSLE if you really need to supplement the process  with an 'objective, tangible' evaluation system. Offering a much broader scope of choices gets parents who still want to game the system to reduce their emphasis on grades and start looking at their child's development a lot more holistically.
"But more importantly, I think it's high time MOE starts engaging with these neurotic parents. Up until now, the public doesn't hear from you guys enough. For me to know you were actually actively trying to solve these issues we've been raising and diligently plugging holes in your archaic machine took me a lot of discussion, debate and digging with other people, sometimes from other industries, but up until this tea session, not from you guys. In fact, when I first saw the name 'Communications and Engagement Group' in your email signature, I thought to myself, 'Where have you guys been this whole time?'
"I think last year's news about the teen suicides actually helped you guys in that it made these parents do a lot of soul-searching. But you do need to follow through on pushing this message across. As an education ministry, you need to tell people that our children's education is by no means the sole responsibility if the academic institution, and that the things our children need to learn that schools cannot teach, have to be taught by us parents at home.
"If you want to really hear what the ground is saying, you might want to tag along when your colleagues at the Ministry of Social and Family Development (MSF) do their engagements, because a substantial portion of the issues raised are about education, but even their Ministers there tell us they can't speak for MOE, so much of those questions get very limited responses, if at all. I know we all could really use your presence at their dialogue sessions. Just please don't send your own Minister to these engagements, at least not until he learns some empathy.
"And I don't know if you realise it, but you already have a ready platform for engaging parents: parent support groups. Nearly every primary school has its own PSG, each housing a pool of up to a few hundred parent volunteers. No, you don't go through the PSGs to get to the neurotic parents. The PSGs are the neurotic parents. Why do you think they join the PSG in the first place? They get to keep tabs on their kids in school, get an intimate look into what their kids'schools are doing, and form a larger network of like-minded neurotic parents to supplement their class WhatsApp group chats so they can all collectively freak out over last week's homework due tomorrow together.
"Think about it. Nearly 200 primary schools with PSGs that hold annual thank-you dinners for their volunteers in assembly halls attended by 100-200 parents, and your top-tier influencers for the rest of their parental cohort. A captive audience of the exact psychological profile you're looking to engage.
"You don't really need to worry about the rest of us. Less neurotic parents know well enough to care for their kids and not depend on the education system to serve out what its not equipped to, so you won't hear very much from us other than what the neurotic ones are making us freak out over. If you can use that same sphere of influence PSG parents have will naturally trickle down to the rest of us, and through engaging them, you can shift the mindset into one that allows you to adjust your policies more peaceably.
"MOE really needs to communicate; instead of unwittingly stopping discussions short with a blanket statement like 'We know what's happening and we're dealing with it', tell us exactly what you're doing and what problems you're facing. Some of us might actually understand you, and a few might even have workable suggestions you could use. And at any rate, we'd much prefer to hear from the heart of your organisation—you—than its head.
"After all this, I guess the only bugbear I have left is your boss. I originally came in to this session with the mind to say he's just wrong for the role, but I think it would be much more constructive to ask that he improve his own understanding of how parents and children across the spectrum approach education, and not just assume everyone can 'chiong' their way through life, or that cleaners aren't okay. From interacting with some of his Cabinet peers, I know better than to hold him as an example of who are running our country. But the public is not as discerning.
"I'm really glad you've taken the time to listen to me, and I'm really, really glad for  your Division's existence. Let me know if you need any more from me, I'd be happy to get a cup of tea with you again. I'll leave you guys to your work now; you have a lot of catching up to do."