When I was a lot younger, I never had any luck with girls. Up until I turned 16, I had crushes on, and was subsequently rejected by, no less than 23 female subjects (ah, puberty). I came to fear the words, "I treat you like a brother." If only I had the wit to say to all 23 of these then-young ladies, "I have 3 sisters already. I don't need any more brotherly treatment."
If friendzone were a word then, I'd be an Internet meme.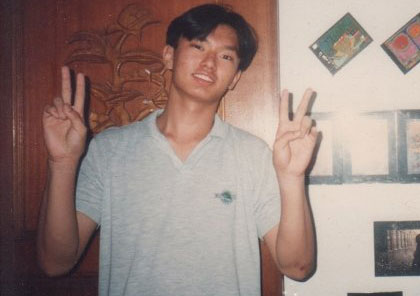 Then, over the following decade, I finally got into a string of 5 relationships with women that didn't think of treating me like a brother. It was a defining time for me, because these relationships taught me the difference between lust, love, and true friendship, and how fragile the balance between the three, for two people to match each other.
Regardless how these 28 relationships, almost-relationships, and not-even-close-to-giving-me-the-time-of-day relationships began, played out, and ended, they were good relationships, valuable relationships, necessary relationships. I cannot say I regret any of them.
Then of course, there's this one relationship I didn't include.
It started as a casual introduction, and after a couple of group drinking sessions, a clicking of minds. Then she had to go away, which started a sporadic five-year-long friendship conducted mainly over ICQ (that, every once in a while, hinted at something a little more). Because we were still in our own relationships at the time, though, we never seriously thought of going past anything other than platonic, but while she was half the world away, we managed to become best friends.
When she finally got back from her overseas study, I'd get calls at close to midnight to come out for coffee. I grew to treasure those nights where we'd sit for hours, only getting up to go home when the 24-hour caf?'s piped-in radio station started playing the National Anthem.
This went on for a number of months. Then things took a turn one night: we had a fight. I couldn't for the life of me remember how it started, but it ended with her screaming at me for having no balls, and me leaving in a huff.
What didn't I have the balls for, you might wonder? I couldn't pluck up the courage to officially ask her to go out with me.
Two days later, I called her and said, "So does this mean we're an item?"
I suspect the circumstances under which we started going out together has given her the impression, which she maintains to this day, that this is "a woo-less relationship". But I beg to differ.
I maintain that somehow I knew, that feeling in my gut that I never thought to trust until now, she's the one. And from the day we met to this day, I wonder how I could ever measure up to deserve her choosing to be with me.
And from the day I finally found the balls to officially ask her to go out with me to this day, as imperfect as I am, and as many mistakes as I make every so often (and when I do, she sure as hell lets me know it), I try to measure up to deserve her choosing to be with me.
Because I love her.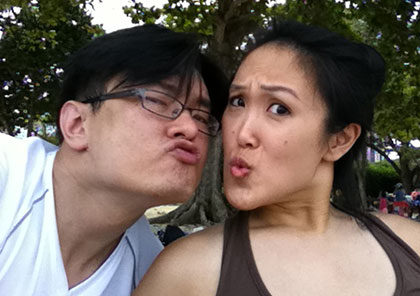 This post is part of a Valentine's Day special, brought to you by Daddy Matters.