So The Blogfather gets called up one day to help out with a web design issue another blogger was facing (back when I was freelancing and my body was less averse to sugar and cholesterol, I used to charge a cup of Starbucks or CBTL coffee for small fix-it jobs like this; now you know why I had to go back to working full-time).
The website owner, who goes by Ondine online (after the ballet, and no, it does not rhyme with "online") is a mother, part-time educator by day. By night, she leads a secret double life as a super-fit, skilled she-warrior, taking to the skies with her collection of high-powered, multi-utility JED Packs (i.e. she jogs on occasion, and sells really cute and very functional kids' bags and accessories).
While I was flippantly mucking about with fixing up her website, I was struck by the collection on sale at her blogshop. We've been friends since, and I've since visited the site a number of times on my own, always tempted to buy, but never having reason to.
But after a year of lurking around the JED Packs catalogue (not usually how long it takes for me to write a review), and seeing as my second child is nearing completion, I now have a number of reasons to.
A few months back, Ondine sent?a knight-themed school lunch bag?(see inset photo above) to Xander as a gift. I ended up using it to bring our Sunday dinner leftovers to the office for lunch one day. What I didn't expect was for the bag to cause quite the stir among the ladies at the office ("Aiyoh, so cute!" and "Where you buy one ah?" being the most common quips; hardly anyone asked if this was my son's, for some reason).
I started to wonder if there was any other stuff in the JED Packs catalogue I could pull off. Xander's also been getting into the habit of bringing meals to school (usually in the form of folded peanut butter sandwiches and milk), and now that number 2 is on the way, we're gonna need diaper bags, too (which, incidentally, is also the name of Ondine's blog as well).
I finally got round to?making a purchase after the Wife pitched in with her opinion of JED Packs. You'll need to note that Ondine, the mother of 3 and mind-moulder of a couple hundred tertiary students, can currently only accept cash on delivery or DBS/POSB bank transfers because she can't afford the merchant fees that come with fancier payment methods. I went slightly nuts with the shopping cart, though, and came out with a whole bunch of stuff.
Bumkins + Dr Seuss Lunch Bag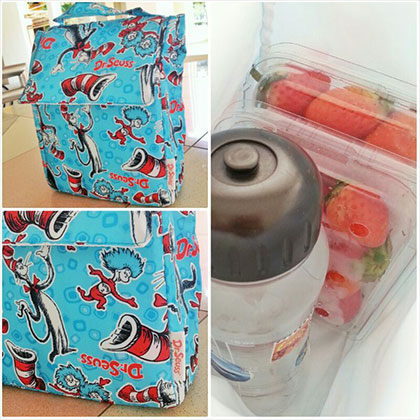 This was the very first thing I set to get for myself Xan. The Cat in the Hat is an absolute classic, made even more quaint in this doggy bag-style lunch bag with an easy-clean waterproof lining to handle accidental spills. They have a soft lunch box version with a handle?as well. We picked this one because it has the height to accommodate a thermos flask for our baby's hot water when we head out on family excursions.
Planet Wise Red Animals Reusable Sandwich Wrap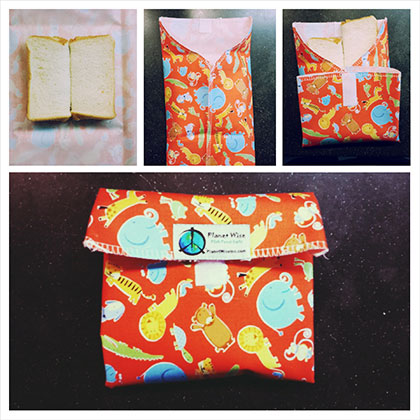 This is a really neat idea if you're not keen on using disposable sandwich bags. The wrap folds out flat so you can prepare square sandwiches right on it, then you fold it back neatly over your sandwich and you're good to go. The inside is lined with a silicon membrane so it's ridiculously easy to wipe clean, and the entire thing is washable (though the printed side will take time to dry), so you'll want to get a couple, or even three, to cycle through when washing.
Bento & Co Block Bento Boxes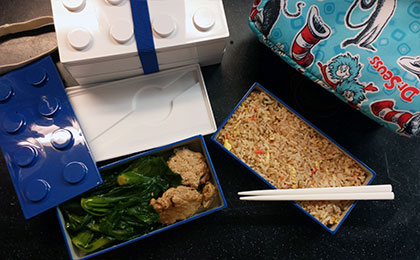 Now this one I originally intended to get for myself, primarily because of what they're designed after. The bento boxes are stacked 2 to a set, and each box comes with a rubber lid to seal the edges, and everything is strapped together neatly with an elastic band down the middle. The set also comes with its own liddle-widdle chopsticks for kids (preferably the ones who are already trained in the art of using chopsticks), and an ice pack to keep sliced fruits cold if you want.
The boxes are microwave-safe (just make sure you don't microwave the rubber lid seals as well), and as it turns out, this really is sized for kids, because I was still hungry when I finished the portion of rice and vegetables for lunch.
Snuggybaby Ningyou Wetbag & Espresso Damask Wetbag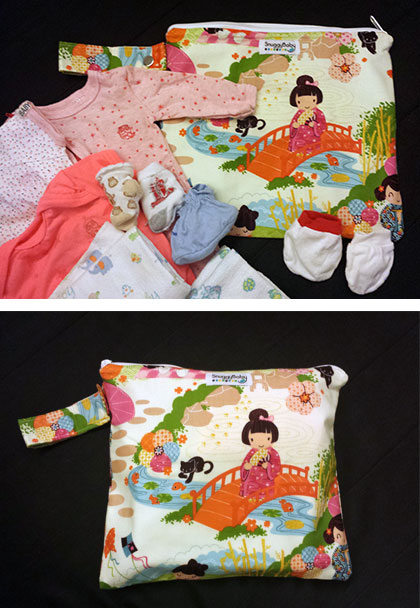 These unassuming pouches are the highlights of the bunch. They're called wet bags because of their waterproof inner lining, so you can keep moisture in – for storing wet clothing after water play, for example – or out, if you've got diapers and baby clothes you need to keep dry whilst carrying them with water bottles and other splash-prone items.
I'm told the wet bags are JED Packs' hot sellers, not just for its practical ingenuity, but because the prints they sport are a cut above the rest. I actually chose the kimono-print Ningyou design to use as my soon-to-be-born daughter's diaper bag, and not because it looks girly, but because it looks rather reminiscent to a Tokidoki print.
If this reads like a paid review, you're only half right. It's a paid review in the sense that I paid for most of these items, and then I did a review of them; I did say in my media policy that if it's worth it, I'd buy it, and the JED Packs catalogue is more than worth its prices, though Ondine did give me a discount and get her husband Packrat (not his real name, though I maintain to this day that he looks like a puffier version of Utt) to deliver the items to me. Which is what JED Packs is going to do for you, too!
Use this shiny little promo code: PACKRATISUTT when you shop at JED Packs and get 10% off all regular items in a single purchase. You've got till 31st March 2014 to enjoy the offer. Also, Ondine usually ships your orders out by mail, so I make absolutely no guarantees that you will meet Utt in the process.