It might interest you to know, my son doesn't actually own many action figures. We've got pretty much everything else – Lego sets, cars, toy cooking utensils and about 250 different pieces of fake food, even 3 Furbies that talk amongst themselves when we're not looking and a dinky little Nerf pistol that the boy refuses to shoot because he' s anti-gun violence.
But thanks to a recent full month party where a certain mum blogger's son decided to bring a certain action figure and got me to "Uncle, help me transform" in front of everyone including my son, Xander's been quietly yearning for a specific set of action figures ever since.
So a couple of days ago, I decided I should indulge him with just one (because I used to have action figures when I was a kid, so it actually didn't seem fair). So I went to the department store to take a look at how much a good one might cost. The ones in my budget bracket were too tiny, but then I found one that was reasonably designed.
Ooooookay. Times have changed since my childhood days.
I left the toy on the shelf, and went home to contemplate whether I really loved my son that much. As it turns out, I didn't need to contemplate much further, because a certain toy company I once poked fun at apparently decided my son was worth it, and sent this to my house.
At first, my eyes popped a little. The media kit had all the other usual swag, including a lanyard, a pen, a DVD of a previous Transformers movie installment (cool, I haven't watched that) and a write-up for a midnight launch party we were cordially invited to. But none of these mattered, because they sent us a? $119 First Edition Age of Extinction Optimus Prime.
Or so I thought.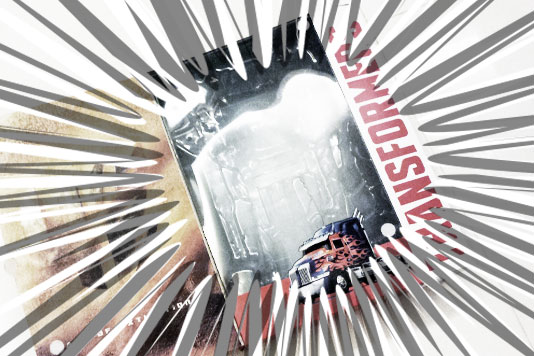 Have we learned nothing about underwhelming the Blogfather from our first encounter with each other, Hasbro? Imagine if I called Xander over to share the joy in opening your large-ish Hasbro bag, then slowly taking out all the items, starting from the pen, then the lanyard, and the DVD to build the excitement, and finally hand him the big box with an image of the most well-loved sentient robot hero of the last 30 years gracing its cover, beckoning him to open the package himself so he can smell the air around the toy that used to be in there?
Wah lau eh. Lucky I checked the box first.
The Blogfather will not let this slide. Whoever came up with this idea, you wait. I know where you live your event is. I will make sure I come and find you. I will bring my entire family, and you will explain to my son in front of his face why you very nearly made him cry that night.
And I will ask all my friends and supporters to come and witness our settlement talk.
Transformers: Age of Extinction Toy Madness
16 May 2014 (Friday) 10pm onwards
(It's a midnight launch, so get your kids prepared to stay up late)
Level 3, Forum the Shopping Mall