Some of you might remember the rather direct blog post I published two Fridays ago when I received a little NERF gun as a gift from Hasbro to tie in with their POWERPLAY 2013 event last weekend.
Well, they replied.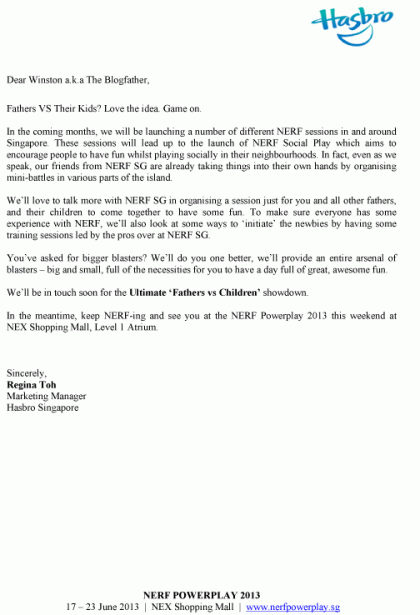 Full text as follows:
***
Dear Winston a.k.a The Blogfather,
Fathers VS Their Kids? Love the idea. Game on.
In the coming months, we will be launching a number of different NERF sessions in and around Singapore. These sessions will lead up to the launch of NERF Social Play which aims to encourage people to have fun whilst playing socially in their neighbourhoods. In fact, even as we speak, our friends from NERF SG are already taking things into their own hands by organising mini-battles in various parts of the island.
We'll love to talk more with NERF SG in organising a session just for you and all other fathers, and their children to come together to have some fun. To make sure everyone has some experience with NERF, we?ll also look at some ways to "initiate" the newbies by having some training sessions led by the pros over at NERF SG.
You've asked for bigger blasters? We'll do you one better, we'll provide an entire arsenal of blasters – big and small, full of the necessities for you to have a day full of great, awesome fun.
We'll be in touch soon for the Ultimate "Fathers vs Children" showdown.
In the meantime, keep NERF-ing and see you at the NERF Powerplay 2013 this weekend at NEX Shopping Mall, Level 1 Atrium.
Sincerely,
Regina Toh
Marketing Manager
Hasbro Singapore
***
I took a while to publish their response, because, you know, the haze. In a gist, we're going to have a special battle, just us dad bloggers from Daddy Matters, our kids, and Hasbro's NERF guns, specially supplied for the event.
All I need now is for the air to clear (on both this event and the actual air). Then indeed, Hasbro, GAME ON.