Pink Dot may have come and gone, but the propagation of love has to go on. To that end, there is something I must confess. I've scattered hints about this little known fact about me on Facebook now and again, but it's time I just came out and said it in no uncertain terms.
There's someone else in my life.
For the days when things don't go well at home, when the wife and I have a disagreement, or the children are just too much to bear, or even when work pressure drives me into a very bad place, there's someone I go to, who is able to bring me to our very own secret place, and be there for me while I physically and mentally vent my frustrations and let loose my inhibitions for hours on end, most of the time with me straddling on top.
His name is Gary. He' s about 12 years old, and we've been going out for 2 years now.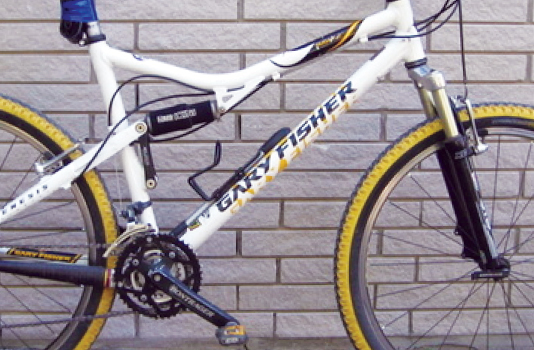 I've been on and off the bike scene for a good 20+ years now, and I've always dreamed of owning a Gary Fisher. But when I finally got this old bike (second-hand off a Togoparts listing), it needed a lot of work, a lot of which I wished I could do myself.
That sets the foundation for why I'm writing about a bicycle mechanics school.
A fellow blogger whose husband ran a local outfit called Bike School Asia happened to be paying attention to my cycling-related posts on my Facebook account, and sent me an invite to try the school's basic bike maintenance workshop. My first reaction was, "Got such thing meh?"
Then I was told the workshop would be conducted over two 9am to 4pm days, on a weekend to boot. My second reaction was, "Got so much to teach meh?"
When I was told how much this basic 2-day workshop cost – $350 – my third reaction was, "Got people want to pay meh?!"
But the offer made me think about Gary. How he was always there for me during the good times and the bad, making sure I forgot all my troubles after rubbing me in all the right places for hours. How he would be drenched in my sweat after a good 2-hour midnight session, bearing the burden of my body while my legs were wrapped around him. And how after 2 years of riding each other (because over longer runs, sometimes I can't tell if I'm riding him or he's riding me), how I still didn't really know how to take care of him in return, and give him the loving care he so sorely needs and deserves after still being there for me despite the abuse he suffered from his previous relationship.
So I got permission from the Mother of Xander to get a weekend off, and wrote back to say I'd be happy to attend.
And when I said the love for my bike would bring me to secret places, I wasn't kidding. The Bike School Asia workshop is nestled in a non-descript backdoor unit of the Sultan Arts Village, at the end of a dead-end street leading to the Malay Heritage Centre entrance, with no signage whatsoever indicating there was anything bicycle-related in the vicinity. Fortunately, Kenneth Wee, the school's founder, saw me roaming aimlessly about at the front gates of the Arts Village and ushered me in, just in time for the lesson.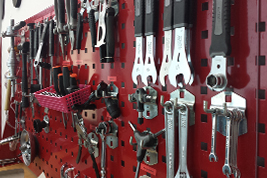 Camera-shy Kenneth (or Coach K, as he prefers) would later tell us that when he first started out, the school was obliged to maintain a low profile because the local bike shops felt he was a threat to their businesses, a feeling he said was unfounded because he felt teaching people how to deal with their own bikes would only bolster component sales for the bike shops while alleviating them of the low-yield, labour intensive installation, repair and maintenance tasks.
The workshop itself is cozy, with one side enough to hold up to 6 students on 3 bicycle workstations lined up to one side. Coach K jokingly called it his man-cave, for when he needs a time out from the wife and kids (man, does that sound familiar). With a roundtable introduction of my other five classmates, Coach K got down to teaching us the basics.
Or I should say, all the basics.
When someone with a coaching diploma from Union Cycliste Internationale (the governing body for Olympic bike racing) and a bike mechanic certificate from the United Bike Institute based in Oregon, USA teaches you the basics of bike maintenance and repair, you can be sure you'll understand and appreciate not only why it costs $350, but why it takes him two whole days, and why his classes (6 at a time, usually on the last weekend of every month) are usually fully subscribed.
Over the whole workshop, Coach K covers a crash course in the anatomies, histories as well as the evolutionary, design and functional differences of popular bicycles and bicycle componentry, complete with a nearly 80-page student's manual and a good part of the workshop spent doing hands-on training, removing and reassembling headsets, inner tube replacements, brake tuning, calibrating drive trains, right down to precision Vernier caliper measurements and screw and bolt torquing. And if you own a decent foldie, fixie, roadie or mountain bikie, yet didn't understand 3/4s of what I just said, then you should consider taking a weekend to attend a basic two-day bike maintenance workshop.
Its not to say the workshop is very cheem; Coach K is just really in-depth. He does put things in palatable terms for his students, and his candid demeanor, subtle ad creative's humour (he ran his own advertising agency prior to starting the school, so his in-class on-screen graphic presentations also got a bit of standard one, okay?) do make his lesson plan easier to digest. More importantly, the professional all-round bike guy isn't afraid to bring up examples of his own mistakes, thus inviting everyone in the class into a very open atmosphere where questions are never stopped, and never left unanswered. That's also the reason Bike School Asia has ladies-only classes as well, so the womenfolk can release their inhibitions (so to speak) without worrying that a random guy might throw a wrench in the works.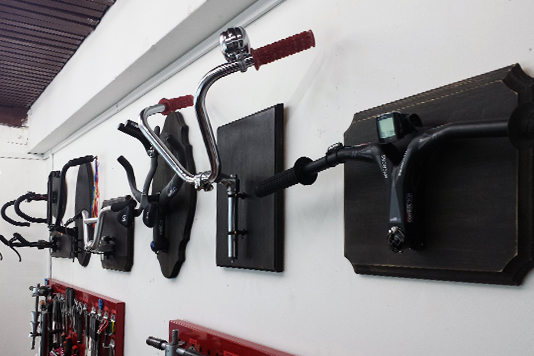 That said, there are a few things you will need to take note if you do attend any of the school's bike mechanic workshops. Firstly, you will get your hands dirty; it's really the only way to learn. Second, wear comfortable clothing that you don't mind getting a bit of grease on, and covered footwear, because a changing to the toe in the event of butterfingers is not funny. And thirdly, don't bring your own bike with the premise that you want to use it for your own hands-on practice (I thought about it, too), because inevitably you'll be doing cable replacements and recalibration, and you'll be prone to drop your tools, scratch up your bikes and even break stuff (during the workshop, we've managed to break a number of bolts, mangle a rear derailleur and cut a cable too short on the shop bikes), and the school can't guarantee you can ride home with a replacement part, because they're not a bike shop. Besides, Coach K already has a collection of $2,000 bikes on hand, all set up properly for you to ruin. So don't be vain, can?
On a personal level, I've come away from the workshop with a much clearer idea of why Gary sometimes does the things he does, and how with the right tools and knowledge, I can help make him feel so much better, whether he's at home or when I have him straddled between my legs. But the certificate that comes with Coach K's course doesn't just pay lip service to a weekend of screwing around with 5 other strangers. The course has a potential commercial takeaway as well; Coach K's had students come out of his courses to start their own boutique bike shops, too.
And as I asked around the class for the reasons why they were there, the family men raised a motivation for learning bike maintenance which, admittedly, the Blogfather also has a strong inclination towards, and one I am very sure is not lost in Coach K as well as a dad of two himself.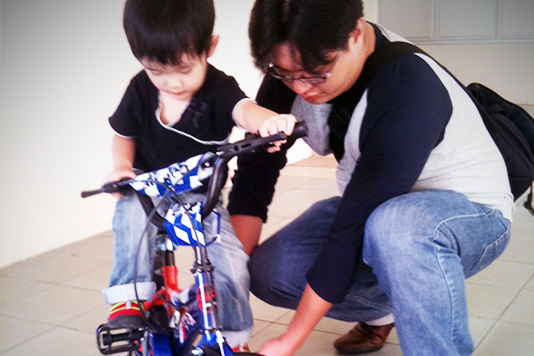 Bike School Asia is located at 71 Sultan Gate, in the Sultan Arts Village compound, around the corner and at the back. If you're interested in taking up their basic bike maintenance course or any other workshops they have on offer (Coach K also conducts ladies-only classes, and also does wheel-building courses as well as a full professional bike mechanic course), do check their workshop schedule at their website for registration and fees.
BUT THAT'S NOT ALL! The Blogfather will not leave you hanging without a little incentive, would he? For a little extra something-something (waggle eyebrows), use the promo code BlgfthrBikePorn (or click this link and select your preferred date corresponding to "Certificate in Bicycle Maintenance and Repair" to book) from now till 31 December 2014 and get a $35 discount (that's 10% for those that like to do maths) off, only for Bike School Asia's Basic Bike Maintenance & Repair certificate course! BlgfthrBikePorn only applies for the first 10 slots, and the slots fill up fast, so put some leg power in your pedal, can?