LEGOLAND Malaysia is still too damn hot.
The trees have grown somewhat since my first review, though. Plus, it's winter monsoon season here in our region (sure it snows here, just that it all melts and hits room temperature by the time it reaches the Petronas Towers), and the surrounding in-development shopping mall is finally seeing some life. AND IT'S CHRISTMAS! So let's give the Danish landscape planners a break this festive season.
Since the wife, the son and the Blogfather have disgracefully underutilised annual passes, we decided to see what LEGOLAND Malaysia has lined up for Christmas last Friday (a day after the actual Christmas light-up event).
Here's the thing: this post would have been titled "Christmas in LEGOLAND Malaysia" instead, if they actually had more than a big green pine tree made out of about 430,000 DUPLO LEGO bricks. But for most of the day, that's all the Christmas we saw, standing just outside The Big Shop like a large, awkward man in a green wedding dress. If you need help imagining what that's like, my wife has some wedding photos to show you.
But there's one big reason to go to LEGOLAND?Malaysia during the Christmas season: they're open till 8pm daily instead of 6pm from now till the end of the year. Besides facilitating a nicer view of the man in the green wedding dress lighting up in the evening, Miniland is an absolutely beautiful sight at dusk.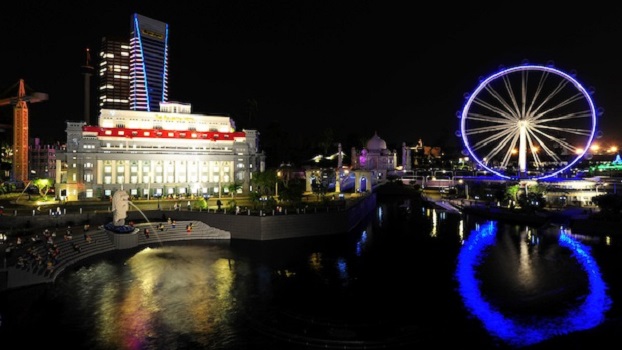 And because the weather is cooler right now, it's quite plausible to plan a full day at the theme park with the family. And to help you plan that day, the Blogfather has a few words of advice for you.
Go on a weekday, and avoid the weekend
LEGOLAND Malaysia typically sees a weekday footfall of 4,500 visitors every day (7,000 on a good weekday) from morning to evening. Come Saturday and Sunday, though, the number shoots up to 20,000 visitors daily. Also, the ride queues start getting longer on weekdays between 1pm to 5pm.
Watch your (kid's) head
The LEGOLAND staff are pretty stringent with height limits, which are indicated on height indicator boards at the entrance of every ride. I witnessed an awkward moment where an entire family walked off in a huff when their 90cm tall, 3-year-old daughter was refused entry to a ride with a?minimum height and age requirement?of 1 metre and 4 years of age respectively (the same requirement for most of the smaller rides).
Milk your favourite rides
Don't aim to try every ride available there in one visit; if your kids decide to latch on to one particular ride, let them queue and re-queue till they start getting bored, then go hunt for the next better ride. You might also want to take note that a number of the simpler rides like the City Airport, Kid Power Towers and Merlin's Challenge only last a minute.
Don't spread yourself too thin
Particularly if this will be your first time there,?don't bother exploring every inch of the place. LEGOLAND isn't the largest, but unless you plan to sprint from section to section, it's still a good 2-day affair to cover the whole park. So take a good look at the map and activities guide and pick 3 of the 7 sections (excluding Miniland; nobody skips Miniland).
Remember to eat lunch
Sure, there are cafes and mini-eateries are available in the other sections, but?the only 2 restaurants serving full meals in LEGOLAND are located in Imagination (Pizza Mania) and LEGO City?(the "trying-to-be-IKEA" Market Restaurant). So if you're planning to eat within the park premises, work either of these 2 sections in your itinerary.
Enjoy the heat, 'cuz the rain is much worse
Being an outdoor theme park, LEGOLAND Malaysia is at the weather's mercy.?If the sun shines, it's sunscreen, sweat and screaming for visitors but all good for the rides. And if it rains, everything and everyone gets wet, and the rides shut down (and no, you don't get a refund). White clouds are your best friend at Nusrajaya, but if all you've got is the clear blue sky, just be nice to the sun, because the rain won't be as kind to your experience.
Bring money
The rides and shows are free, but the food isn't, and the retail is a real test of your willpower even though you're not planning to buy any LEGO sets. The range available at the Big Shop is quite an eye-opener, and prices are lower than what's on offer at most major Singapore retailers (it's a toss-up if you consider the boutique LEGO stores here like The Secret Chamber). There are also seasonal LEGO sets available; they've still got leftover Halloween stock sitting in the bargain wagons.
As for getting into the Christmas spirit, here's what the guys at LEGOLAND have to say in their press release:
"Several activities have been planned as part of the celebrations including special walking
characters, storytelling sessions and Christmas ornament building activities. The building sessions will be
held at LEGO Academy daily from 11am-5pm and visitors can choose to either participate in a free building
session or purchase specially packed bricks at the Brick Shop. With the purchase, visitors can learn how to
build each item with LEGOLAND Malaysia model builders for several hours every day and take home the
festive ornaments.
"Other LEGO Christmas products are also available at both retail outlets at this time of the year. This
includes items such as Advent calendars, LEGO baubles, Santa sleigh sets, holiday t-shirts and much more."
For more information, visit?www.LEGOLAND.my