SG50 – Finding the Way Forward, Like an Awkward Teen
This post comes in 3 pages, so the loh-sohness is more bearable.
50 years in human terms might seem like a milestone of life, but in the context of a nation, it seems more like we're only just breaking out in our teenage zits.
To be fair, we've been Singapura for a lot longer, though in the force of our national education shaping our society's current mindset, we look at 1819-1964 as more akin to "our lost years" than anything else – a story that begins with the legend of an ang moh turning into a white statue at Empress Place, and ends with a grown man crying because his island-state was kicked out of a larger nation like an unwanted child.
The end of that story, so it seems, has become the beginning of ours.
***
Why the sudden bittersweet nostalgia?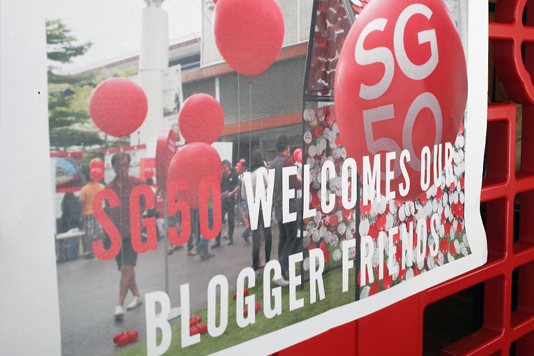 The Blogfather & Family, together with a number of other bloggers from various niches, were invited to an SG50 pop-up exhibition last weekend. It's not there anymore (the next one's happening at Northpoint in Yishun next week, I think). This is not the kind of thing I would usually cover, but for the one single attraction that was mentioned in the invitation email:
However, my curiosity did get piqued by the clout around the exhibition. For one, the invitation was sent by an unexpectedly established agency, and the events schedule read like a half-day diplomatic visit where the bloggers were UN reps. Something was up, and in the course of the exhibition, and more importantly, a rather nice, honest lunch conversation after, I'd confirm what I suspected – that the exhibition was not the point.