The Unbearable Lightness of Being a Public Figure's Child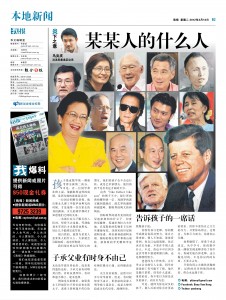 Being the child of an MP – or any public figure for that matter – will loom over the child for the entirety of his or her life, whether he or she likes it or not. Tampines MP Baey Yam Keng recounts an incident involving his child's Maths test results being shrugged off by a classmate as an expected privilege for a privileged child. Politics aside, his subsequent reflections and advice not only applies to public figures, but with anyone with family members who have substantial achievements in education, endeavour or experience.
Mr Baey's note published on Facebook on 14 March 2012, taken from his My Paper (??) article on 13 March 2012, is faithfully reproduced here in both its original Chinese format and English translation.
????13-3-2012

????????

?????

???????

?????????????????????????????????????????????????????????

???????????????????????????????????????????????????????????

????????????????????????????????????????????????

???????????????????????????????????

? ???????????????????????????????????????????????????like father like son????????????????????????????????????????????????????????????????????? ???????????????????????????????????????????????????????????????????????? ???????????????

?????????????????????????????????????????????????? ???????????????????????????????????????????????????????????????????????? ???????????????????????????????????????????????

??????

????? ???????????????????????????????????????????????????????????????????????? ???????????????????????????????????????????????????????????????????????? ??????????????????????????????????????????????????????????????????????? ????????????????

??????????????????????????????????????????????????????????????????????????????????????????????????????

Translated version

?Excuse me, are you Somebody?

?My child scored the second highest in her class for a recent Maths common test, but her achievement was undermined by a classmate to be due to her father being an MP.

I was told by a fellow MP that he made his appearance as the parent of his daughter for the very first time during her polytechnic graduation ceremony. ?It was only then that her classmates knew about their relationship.

A Minister chose not to see his son off during his enlistment, but showed up only at his passing-out parade, so as to avoid any unnecessary attention during the course of his basic military training.

Just because one is related to someone, one would be seen in a different light or tasked to meet higher expectations.

It is not uncommon to find ourselves asking a doctor friend if his children would follow in his footsteps, or expect an artist friend?s children to be artistically talented too.? We can easily find a few such examples: Wee Cho Yaw and Wee Ee Chong in the banking sector, theatre doyen Kuo Pao Kun and daughter Kuo Jian Hong, Patrick and Nicholas Tse in the entertainment sphere, David Tao Sr. and David Tao in the Mandopop industry. ?In politics, there are the Kennedys and the Bush father and sons in the USA, the Nehru-Ghandi family in India, the Bhuttos in Pakistan, the Aquinos in the Philippines, General Aung San and Aung San Suu Kyi in Myanmar and of course, Lee Kuan Yew and and Lee Hsien Loong in Singapore.

Whether it is nature or nurture, following the footsteps could have been a natural course of events or even a well deserved accession.? Sometimes, it is not a personal choice. ?For example, the constitution would have to be changed if Prince Charles were not to inherit the throne from Queen Elizabeth II or if Maha Vajiralongkorn were not coronated following Thai King Bhumibol Adulyadej?s reign. Being born into royalty brings with it wealth and luxury, but sometimes life is far from being a bed of roses when there are family disputes, infightings, and even usurpation.

I told my child, ?You do not have tuition, therefore you deserve every mark you have earned yourself. ?Others may not realize it, but I am aware and more importantly, you know what you have put in. ?You should be proud of yourself and not be bothered by what others say. ?On the other hand, you cannot be conceited but continue to be diligent. ?Due to my public role, there is more public interest and scrutiny.? Your classmate may not necessarily understand what I do, but I am sure his comments meant no malice. It is crucial that you do not take things for granted or feel privileged in any way just because your father is an MP. ?On the contrary, there are higher expectations of you precisely because you are the child of an MP. ?As long as you do your best according to your conscience, there is no need for any self-imposed pressure. ?Be courageous enough to own up to any wrongdoing, for every mistake we make will prove to be a learning experience.? In this common test, you had told your teacher she had given you an extra half mark.? I am proud of your honesty.? We should not take credit if we have not put in the effort.? As long as you commit yourself to your tasks, what you learn in the process and gain from the results are yours to keep, forever.?

MyPaper, 13 March 2012