Dear Xander,
This is TimSam. TimSam is a grasshopper, and probably the largest one your mother and I have seen live (about 4-5 inches long; we didn't think to get a ruler to measure him at the time).
TimSam landed on your godma's car one afternoon, and someone thought it would be a good idea to catch the big guy, put it in a plastic box, and give it to your mother to bring home to you.
I disagreed. But by then it was already en route to our home. So TimSam became your pet… for a good 24 hours.
It wasn't a smooth introduction, though. For the first 3 minutes upon meeting the gigantic grasshopper, you freaked out. "But I wanted a cat!" you said.
Then another 20 minutes later, you decided maybe we should keep it.
I still disagreed. But in the spirit of good fathering, I said, "Well, if you want to keep it as your pet, you should name it.
"How about Tim?" you asked.
"Sure," I said. And then when your mother came out of the shower, I instructed you to let her know the name of your new pet.
"What's its name?" your mother asked.
"Sam," you said.
"But you said it was Tim!" I protested.
"Oh. Then TimSam lor," you replied. Then you went to bed.
The next evening, your mother and I talked about letting TimSam go free. It was a huge bugger, and we imagine it must be getting on in grasshopper years. Being used to living in the wild so long, it just seemed wrong to keep it caged up, much less name it after a mis-spelling of steamed Cantonese cuisine. So when we got home, I said to you, "Xander, TimSam wants to go home."
"Home? He's at home what," you said.
I explained, "TimSam's home is outside in the grass; we don't have any grass at home. If we keep TimSam here, he won't survive. Besides, you too scared of him to hold him anyway, right?"
"But I love TimSam leh…" you protested.
"This is what we can do; we can bring TimSam downstairs into the garden, and he can live there. TimSam will be living just downstairs our block. How's that?"
You gave it some thought, then said with slight disappointment, "Okaaay."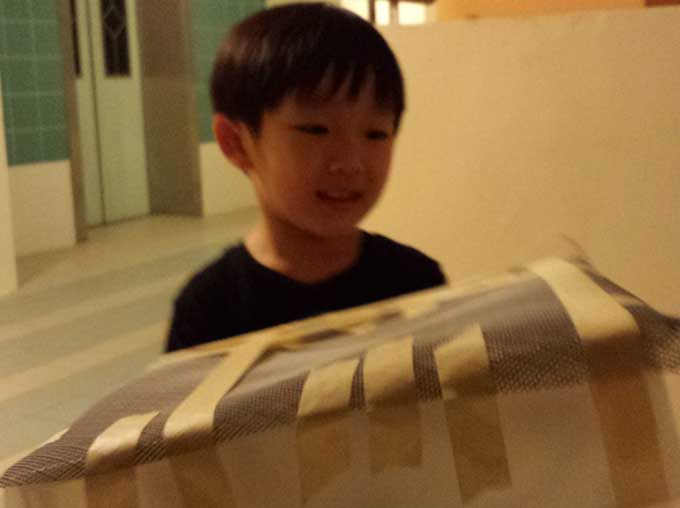 And so we brought him downstairs. The entire time I was struggling with removing the masking tape that sealed TimSam's box, you were clutching tightly to the back of my t-shirt, peering over my shoulder as if TimSam would jump out at any time and attack your face.
And TimSam was eager to come out. Upon realising we were opening the box, he banged against the walls of the box so hard it felt like there was a much bigger animal in there. But when the lid was finally opened, I saw TimSam slowly climb out on the edge of the box, then turn to look at me for a good five seconds, before turning around to fly into the adjacent bushes. TimSam was safe, and free.
As we walked away, you repeated, "But I still love TimSam leh."
"Well, you can always come downstairs and visit him," I said. I am quite optimistic that way. "Say goodbye to TimSam."
You half turned and waved half-heartedly into the bushes. "Bye bye, TimSam."
Just before we reached the lift landing, you said, "But I wanted a cat leh."
Perplexed,
Dad